About the Oregon Drum Myrtlewood Series (Stave Models)
Due to a series of circumstances beyond our control, the run of Myrtlewood Series Stave models has come to an end. Please see the News/Events section of our site for more information.
How is the construction of our Myrtlewood Stave Shell Drum unique?
These high quality drums are similar to construction of a barrel, where sections of wood are cut with specific angles and curves, allowing a round cylinder to be produced once it is glued together and sanded smooth. Stave construction has been relied upon for decades in the production of congas, ashikos and djembes. This method greatly improves the quality of wood in contact with the drum head and eliminates hundreds of square inches worth of glue typically found in a ply shell. Stave shells allow us to utilize different hardwoods for the staves in an alternating fashion, resulting in a unique drum with dramatic contrast in visual character. The Myrtlewood planks are selected specific to each shell. Individual pieces are sorted for grain patterns and color range to ensure each drum has a level of unmatched quality, yet retains an artistic presence. We typically look for wood that has a visible history. Often times this means finding pieces with mineral deposits, strange color patterns or wide grain variations. The result is a drum built in the stave tradition that actually looks traditional. Each finished drum is truly unique.
We require a carefully controlled environment when the pieces are brought together for assembly as a shell, a preventative measure designed to eliminate tonal and surface inconsistencies associated with warping, swelling or varying degrees in hardness. The result is a beautiful drum that is a leap beyond that of conventional plywood contruction. Determining the dimensions of each piece used in the drum involves several complex mathematical calculations. Our on-line Stave Calculator was programmed for this exact purpose. Other stave drum builders rely on this same application for their own drums.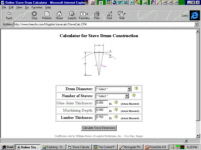 Bearing edges and snare beds are precision cut with a combination of tools, while detailed and finish-sanded by hand. Hardware mounting points are determined individually for each shell and precision drilled with a press. The shell is given a final sanding with various grades before finishing.
The Nickel strainer system with Puresound wires is standard on all stave Myrtlewood Series drums. A premium cast strainer with matching adjustable butt (similar to that on Free Floating models) is available as a no cost option. This system better allows for proper centering of the wires throughout the tension adjustment range. The plating combinations are coordinated to your drum.
Starting with the 2005 model year, Oregon Drum has incorporated it's own unique lug design into it's Myrtlewood Series Stave models. This lug features a body designed, manufactured and finished right here in Coos Bay, with the insert components sourced from and plated by other US companies. This ambitious move is but one of the steps we've taken to keep our business at home, doing everything we can to support the local economy. High grade materials and alloys coupled with stainless assembly hardware ensure the highest quality. While an expensive route, it's one we decided to take in order to incorporate features deemed crucial to a premium drum.
Among our new lug's features is the VTHC™ (Vertically True / Horizontally Compensating) system that assures a smooth tension rod alignment from top to bottom hoop regardless of the minor variances in shell diameter and/or hoop tolerances. This allows for a single-point or tube lug design that maintains proper tension rod alignment on both horizontal and vertical planes. Additional lug strength is assured by the use of stainless machine screws larger than those of a typical lug in combination with our traditional isolation methods.
All Stave Myrtlewood Series models for 2005 will feature this new lug as shown within the updated design preview and ordering system.
Once the drum is assembled and passes a final inspection, it is placed in a high quality case (complete with Myrtlewood Oregon Drum badge), carefully packaged and shipped.